Long Standing Equestrian Facility
Our facility is a 24 Acre property located in the heart of Crabapple in Alpharetta, Georgia. Our property has been a long standing equestrian facility servicing clients from all areas of the Metro Atlanta community including Atlanta, Buckhead, Brookhaven, Roswell, Alpharetta and Milton. We also provide services to many clients that travel from around the country including Chicago, Wisconsin, Michigan, Alabama and Tennessee for our premier competitive show barn team.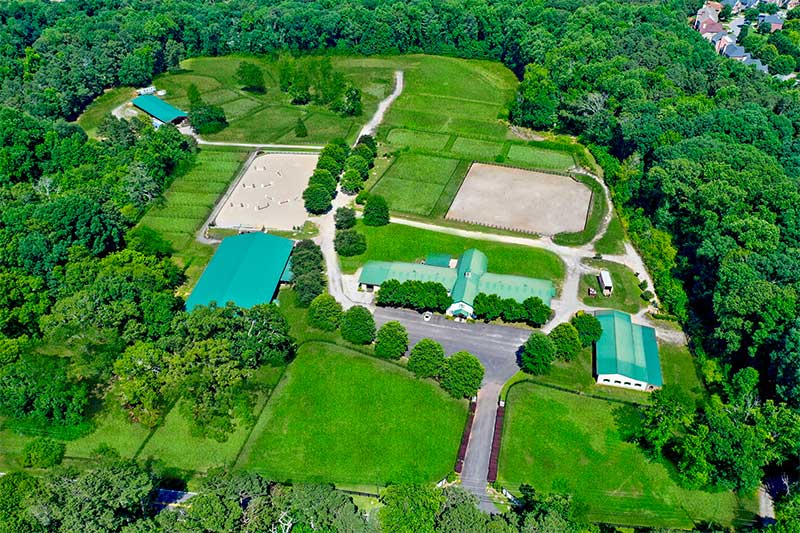 Our 50 stall state of the art facility includes individual 12×12 box stalls with mats, and fans, automatic waterers, rubber aisleway, and extra-wide barn aisle and windows. Our training facilities include a large covered lit arena, a large outdoor training arena and a football size grass derby field. There are heated and comfortable spectator areas for visitors to view lesson and training rides. The 22 paddocks and pastures allow for individual or group turnout. Our grooming staff provides full service care including daily grooming, blanketing, feed and turnout. We use quality feed, supplements and premium grade timothy. Our stalls are heavily bedded for the horses comfort and automatic waterers, fans and individual lighting is provided. We have personnel onsite 24/7.
Windsor Stables offers full service monthly board
12×12 Box stall with mats, window, fans, and lights
12×24 stalls available for additional rate
Stalls are cleaned twice daily and shavings added as needed to keep bedding in pristine condition
Hay/feeding three times daily (Timothy or Alfalfa hay),
Daily blanketing/un-blanketing
Automatic waters and water buckets cleaned and filled three times daily to monitor water intake
Hot and cold wash
Daily turnout in large grass pastures
Pastures seeded each season and maintained
Arenas watered and drug twice daily
On-site manager/grooms that do night checks
Emergency trailer vehicles left on site
Full access to indoor/outdoor for all weather riding, fully lit arenas

"The level of training for both horse and rider is exceptional! Our daughters riding style improved dramatically and rapidly after joining Michaels unique program. When she first met Michael, he asked what her goals were. She told him, Junior hunter finals, Derby's, Jumper and finals in all three Equitation medals, she achieved all these in one year! We couldn't be more thrilled about our daughter's progress since joining the Windsor team."
"As a working mom with small kids, I didn't think it would be possible for me to get back into riding for many years. I am so grateful for Windsor Stables' riding academy. Their program provides a lesson schedule that accommodates working parents. The trainers are incredible - so knowledgeable, kind, and fun to work with! I also really enjoy the other riders in the program. There are several of us who usually take lessons at the same time. We have a great time learning new skills and cheering each other on. It is such a positive environment and a wonderful place to be. Riding days at Windsor are my favorite days!"