Full Training with Grooming
Windsor Stables offers a full service customized care program for the horse and rider. This is inclusive of a six day a week program designed to take optimal care of our top athletic Equine partners. All horses in our program are exercised daily to keep show fit and out of their stalls as much as possible.
Our program includes:
Six days a week with a combination of lessons and/or training rider,
(Monday Closed –turn-outs and grooming only)
Bathing, grooming, mane pulling, clipping, lunging, hand walking, tack care and conditioning
Tacking/un-tacking prior and following scheduled lessons and training rides
Laundry service.
Horses are groomed twice a day to keep coats healthy and horses in show ready condition.
Windsor Stables has several amazing therapy solutions for our equine partners. 
The ECB Equine Spa is a cold salt hydrotherapy spa – that provides drug-free preventative care; pre-and post-exercise therapy and icing. It is also a supportive therapy for tendon and ligament repair.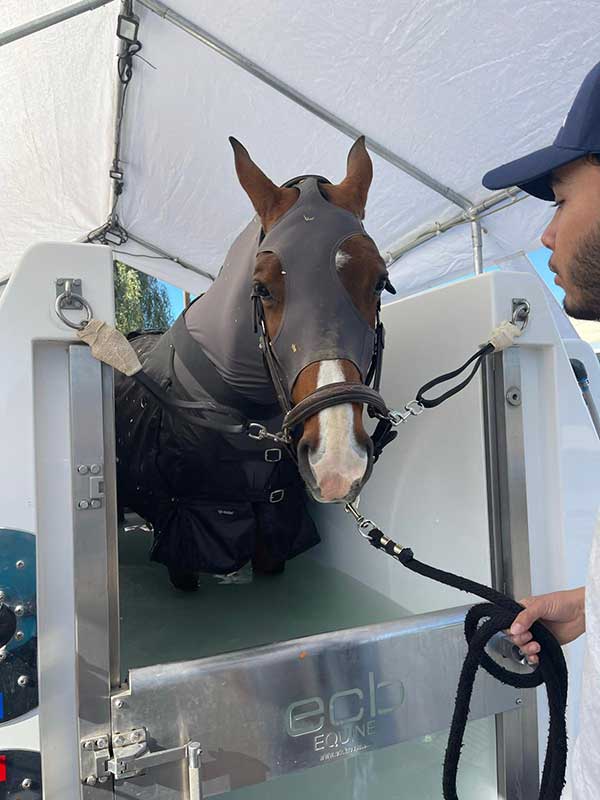 Horse-Trainer Sun Solarium
To support the ECB Spa treatments, we have the Horse-Trainer Sun Solarium.
This therapy is to treat horses with infrared rays that are important to help increase blood flow, circulation, and muscle elasticity. The Sun Solarium is also used for quick drying.
The equipment is located behind the Windsor barn near the outdoor care area, so that we can provide these supportive technologies to our horses on-site and where we train. Therapy solutions are available in packages. Please
inquire about pricing
.

"The level of training for both horse and rider is exceptional! Our daughters riding style improved dramatically and rapidly after joining Michaels unique program. When she first met Michael, he asked what her goals were. She told him, Junior hunter finals, Derby's, Jumper and finals in all three Equitation medals, she achieved all these in one year! We couldn't be more thrilled about our daughter's progress since joining the Windsor team."
"As a working mom with small kids, I didn't think it would be possible for me to get back into riding for many years. I am so grateful for Windsor Stables' riding academy. Their program provides a lesson schedule that accommodates working parents. The trainers are incredible - so knowledgeable, kind, and fun to work with! I also really enjoy the other riders in the program. There are several of us who usually take lessons at the same time. We have a great time learning new skills and cheering each other on. It is such a positive environment and a wonderful place to be. Riding days at Windsor are my favorite days!"